THE ART OF ANTIQUE JEWELLERY
We proudly offer a selection of beautifully curated antique jewellery that is steeped in history. Every single piece is unique, authentic and chosen with Charlotte's extensive knowledge of antiques.
SHOP ALL NEW IN →
"CHARLOTTE SAYERS ANTIQUE JEWELLERY IS A TREASURE TROVE OF EXQUISITE HEIRLOOMS"
- Vogue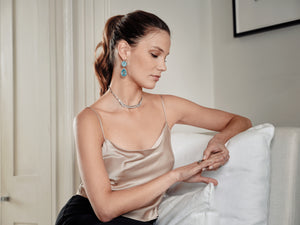 Antique Engagement Rings
"With an undeniable sense of romance and mystery, antique rings are both uniquely beautiful and come with a sustainable caveat"
SHOP ALL ENGAGEMENT RINGS →
The Sustainable Choice
Not only are you purchasing something unique and special that can never be reproduced. You are buying into the circular economy and helping our planet. Buying antique jewellery is one of the easiest ways of conserving resources as well as owning a piece of history.